Kenya – the name is almost synonymous with the word "safari." Perhaps no other place on the planet conjures such a spirit of adventure and romance. The diversity of things to do dazzles all who visit, and viewing the country's abundant wildlife tops the list. See throngs of wildebeest thundering across the savanna during the Great Migration in the Maasai Mara; come eye-to-eye with an elephant in Amboseli; or marvel at Lake Nakuru, flecked with thousands of flamingos. In these sun-soaked lands, ancient tribes, such as the Maasai, Kikuyu, and Samburu, retain their traditional customs, living in relative harmony with the natural world.
Capital: Nairobi
Major languages: English (official), Kiswahili (official)
Currency: Kenyan Shilling (KES)
Area: total: 580,367 sq km
Climate: varies from tropical along coast to arid in interior
Population: 49.7 million (2017)
Maasai Mara National Reserve
In their language, Mara means "mottled," perhaps a reference to the play of light and shadow from the acacia trees and cloud-studded skies on the vast grasslands. The park is famous for the Great Migration, when thousands of wildebeest, zebra, and Thomson's gazelle travel to and from the Serengeti, from July through October. In the Mara River, throngs of hippos and crocodiles lurk. The park is also known for providing excellent predator sightings, thanks to its relatively large populations of lion, cheetah, and leopard – especially in the dry months from December through February. Thanks to the park's altitude, the weather here is mild and gentle year-round.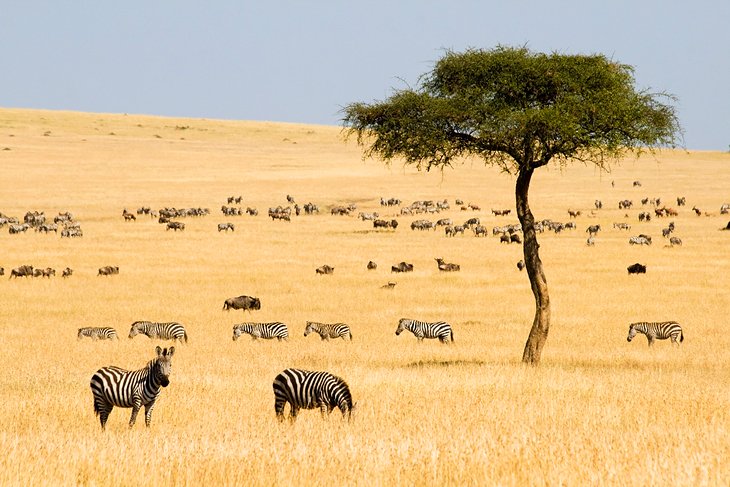 Amboseli National Reserve
Crowned by Mount Kilimanjaro, Africa's highest peak, Amboseli National Reserve is one of Kenya's most popular tourist parks. The name "Amboseli" comes from a Maasai word meaning "salty dust," an apt description for the park's parched conditions. The reserve is one of the best places in Africa to view large herds of elephants up close. Other wildlife commonly spotted in the park includes big cats, such as lion and cheetah, as well as giraffe, impala, eland, waterbuck, gazelle, and more than 600 species of birds. Nature lovers can explore five different habitats here, ranging from the dried-up bed of Lake Amboseli, wetlands with sulfur springs, savannah, and woodlands. Look for the local Maasai people who live in the area around the park.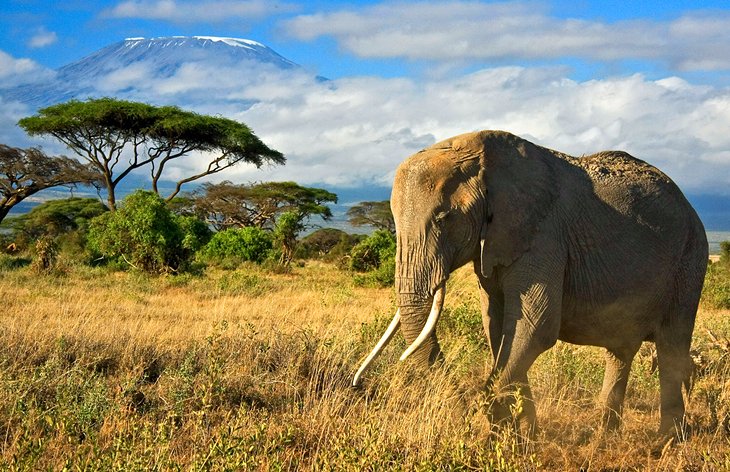 Lake Nakuru National Park
Lake Nakuru National Park, in Central Kenya, is famous for its huge flocks of pink flamingos. The birds throng on Lake Nakuru itself, one of the Rift Valley soda lakes that comprises almost a third of the park's area. The park was established in 1961, and more than 450 species of birds have been recorded here, as well as a rich diversity of other wildlife. Lions, leopards, warthogs, waterbucks, pythons, and white rhinos are just some of the animals you might see, and the landscapes range from sweeping grasslands bordering the lake to rocky cliffs and woodland. The park also protects the largest euphorbia candelabrum forest in Africa. These tall, branching succulents are endemic to the region and provide an interesting textural element to the arid landscapes.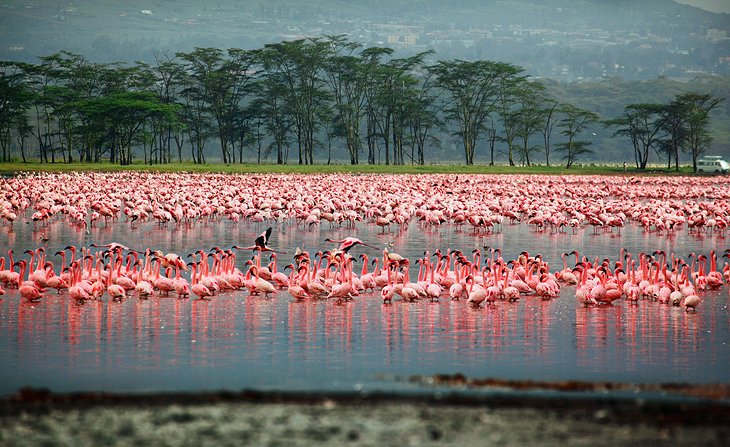 The small island of Lamu, northeast of Mombasa, oozes old-world charm. A UNESCO World Heritage Site, Lamu Old Town is Kenya's oldest continually inhabited settlement with origins dating back to the 12th century. Strolling the labyrinthine streets, you can see the island's rich trading history reflected in the buildings. Architectural features from the Arab world, Europe, and India are evident, yet with a discernible Swahili technique. Intricately carved wooden doors, coral stone buildings, hidden courtyards, verandas, and rooftop patios are common features. Visiting here is like stepping back in time. Dhows plow the harbor, few if any motorized vehicles exist here, and donkeys still rule the streets as they have done for centuries.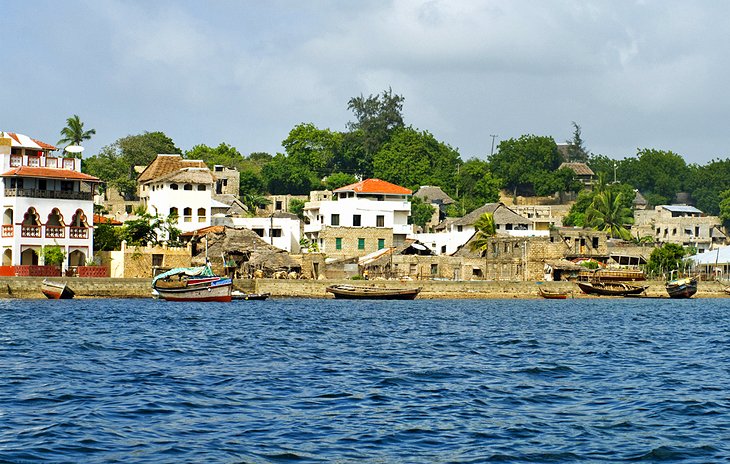 Kenya's second largest city and biggest port, Mombasa is a multicultural tourist magnet. British, Portuguese, Arab, Indian, and Asian immigrants add to the rich cultural mix, and their influence is evident in the architecture, as well as the many different types of cuisine. Mombasa is actually an island connected to its mushrooming development on the mainland by a causeway, bridges, and ferries. Coral reefs fringe the coast for 480 kilometers providing fantastic snorkeling and diving opportunities, especially at Mombasa Marine National Park and around Wasini Island. Dolphin watching and deep-sea fishing are also popular.
History buffs will enjoy exploring the 16th-century Fort Jesus and Old Town with its narrow streets, ancient Swahili dwellings, markets, and souvenir shops.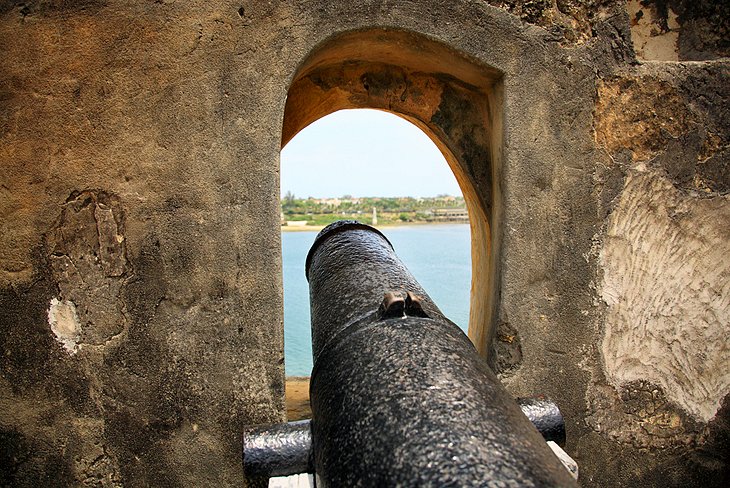 Mount Kenya National Park
In the Central Highlands, east of the Great Rift Valley, Mount Kenya National Park is a UNESCO World Heritage Site encompassing the country's namesake highest mountain at 5,199 meters and providing the rare sight of equatorial snow. Formed by a series of volcanic eruptions, Mount Kenya is actually comprised of three glacier-cloaked peaks. The highest is Batian, although Nelion, the next highest, is a tougher climb. The lowest peak, Lenana, is considered the easiest climb, although unpredictable weather can pose challenges.
Scenery varies from glaciers, lakes, and mineral springs to alpine forest and dense pockets of bamboo.