Welcome Remarks
We at Tiyende Safari and Tours are pleased to be in touch with you and we welcome you onboard this 2days 1night Group Safari of Majete Game Reserve in Lower shire Valley.
Majete Wildlife Reserve, founded in 1955, is situated in the south of Malawi, just one-hour drive from Blantyre, It is one of the biggest successes in wildlife protection and one of the only place in Malawi where the Big 5 can be seen all year around! Majete is also part of the biggest elephant translocation!
Before African Parks involvement in the reserve, most of its wildlife had been poached to extinction. Within five years of taking responsibility for the reserve, over 2,000 animals had been reintroduced and the entire park has been fenced.
Majete now hosts more than 4000 animals, including the Big 5! Elephants, lion, leopard, black rhinos, buffalos, elands, nyalas, zebras and hippos can be seen in the reserve. In July 2019, African Parks, the Department of National Parks and Wildlife and the Endangered Wildlife Trust successfully translocated a founding population of 4 cheetah from South Africa into Majete Wildlife Reserve where they have been missing from the landscape for decades. This reintroduction marks another milestone in the fight for the preservation of Malawi's wildlife.
Birdlife is also present in Majete with more than 300 species. These include several raptors, four vulture species, and a large population of bateleur eagles. From July to November, the park witnesses a plethora of migratory birds, including skimmers in the riverine areas, and the diminutive, yet beautiful rock pratincole.
Majete offers a vast range of vegetation: moist, miombo woodlands and dry savannahs. It also displays fantastic landscapes.
If you want to see the Big 5 or admire the work of African Parks you definitely can't miss Majete Wildlife Reserve.
We wish you a Happy and Memorable Safari! – Tiyende
Safari Crew.
Interesting Facts:
Majete Wildlife Reserve
Majete lies in the Lower Shire Valley in the South West of Malawi, approximately 70km – (one and a half hour's drive) from Blantyre's Chileka international airport and three hours from Lake Malawi.
Majete has served as a nature reserve since 1955, but reportedly "was a wildlife sanctuary in name only" by 2002.
The mass translocation of wildlife began in 2003 and by March 2012, 2,559 animals from fourteen different species had been reintroduced including the famed African
Day 1
A Tiyende Safari Executive bus shall be ready to pick Lilongwe guests at Game Complex for a trip to Majete which shall start at 6am sharp.
A Bus from Blantyre shall start off at 10am for Majete.
We are planning to reach Majete Game Reserve in time for Lunch and after lunch we shall lazy about the swimming pool cooling from the scorching sun awaiting the Days Game Drive and Boat Safari.
At exactly 15:00hrs we shall get onboard an Open land Cruiser for a 4hrs Game drive and Boat Safari combined activity which shall see us returning to the park reception at around 19:30hrs having taken our sundowner drinks and snack on an Island on Shire river.
Departing the park right away we shall head for a check in at our Lodge on Bed and Breakfast basis, freshen up and proceed to Press Cane Club House for dinner.
Route

Lilongwe – Blantyre to Majete Game Reserve

Total Per Person

$137.00 (MWK 110,000.00)
Day 2
These 2 days are open for you to experience the numerous activities and options that have established this area as the "AdrenalinA lazy Sunday it shall be after yesterday's busy day. At 9:30am we shall all be set to hit the road for Blantyre and Lilongwe respectively with stopovers as required.
ETA in Blantyre is 11:30am and Lilongwe is 16:00hrs with home deliveries if required.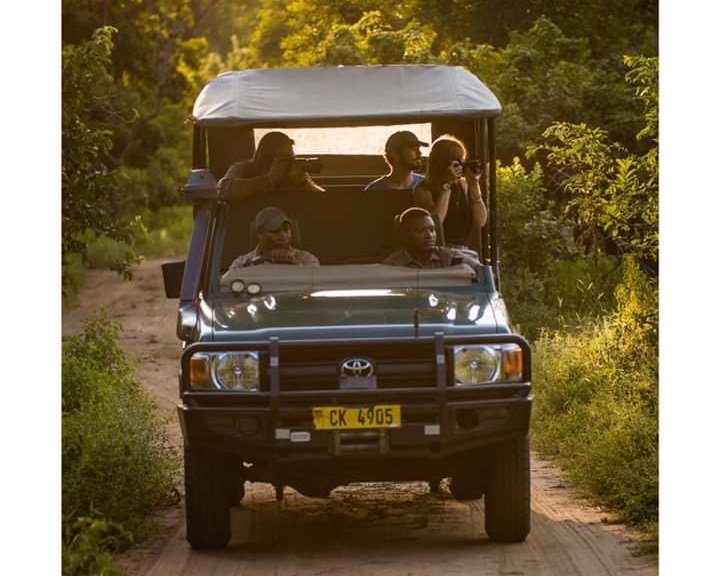 Package Include​
• Transport
• Trip Fuel
• full time Driver / Tour Guide
• Game Reserve Entry fee
• Accommodation (Bed & Breakfast)
• Lunch at Sunbird Mwembezi Restaurant
• Dinner at Press Cane Club House
• Safaris by boat and Park open Vehicle (4hours)
• A visit to Majete Game Reserve Museum
• Bottled Water and Snacks
Package Exclude​
• Optional activities not outlined in the itinerary.
• Other Meals which are not in the itinerary
• Items of a personal nature e.g. laundry, tips and etc,
Payments
Payment Details: Tiyende Safari Accepts and Encourages payment in Installments
Tiyende Safari │First Capital Bank │City Mall Branch │ Acc# 0027502001290
Share
Facebook
Twitter
Whatsapp
Google Plus
Telegram