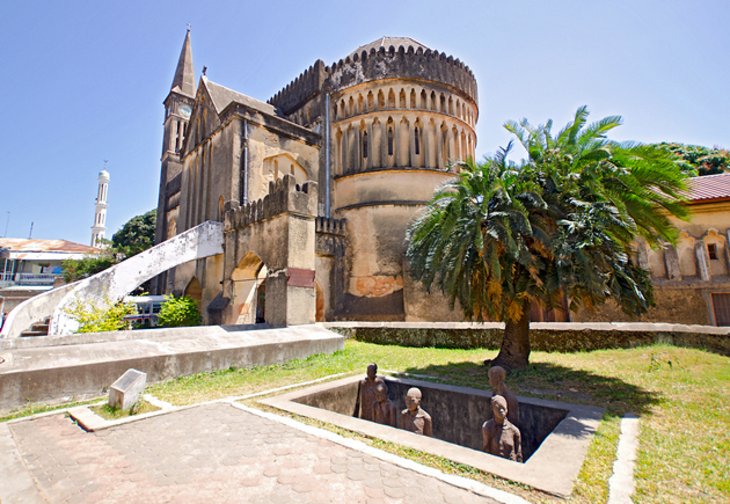 October 2021 Zanzibar Tour Itinerar
We at Tiyende Safari are excited to be working with you and planning your forth coming Vacation in Zanzibar, Tanzania. We have carefully tailored this package for you and your loved ones and we believe the memories of this trip will be treasured for a lifetime.
– Tiyende Safari
Interesting facts about Zanzibar, Tanzania
Zanzibar is a Tanzanian archipelago off the coast of East Africa. On its main island, Unguja, familiarly called Zanzibar, is Stone Town, a historic trade center with Swahili and Islamic influences. Its winding lanes present minarets, carved doorways and 19th-century landmarks such as the House of Wonders, a former sultan's palace. The northern villages Nungwi and Kendwa have wide beaches lined with hotels.
Top 10 Things In Zanzibar
Spend the day in Stone Town. Stone Town is the heart and soul of the island. …
Head to Jozani Forest. A vast and scenic spread of green, Jozani is the last indigenous forest left on
Zanzibar. …
Catch some sunset at Nungwi beach. …
Visit Prison Island. …
Eat at Forodhani market. …
Palace Museum. …
House of Wonders. …
Spice Tour.
Once again Thanks for choosing Tiyende Safari and wish you a Memorable Trip.
Day 1: 28th October 2021 LILONGWE TO DAR ES SALAM
A Tiyende Safari Vehicle shall pick you from your home/hotel in Lilongwe for Kamuzu International Airport. This shall be in time for an advance 2hrs check in for your flight to Dar es Salam in Tanzania. Your flight is at 1630hrs and arrival time in Dar is 2040hrs
In Dar you shall be met by a Tiyende Safari Official and transferred from Airport to a Hotel in Dar es Salaam on Bed & Breakfast basis.
Day 2: 29th October, 2021 DAR ES SALAM TO ZANZIBAR TRANSFER
After Breakfast in Dar es Salam, you shall be transferred to Zanzibar on board a luxury cruise boat. The sailing time shall be approximately 1hr30min . Dhow Palace Hotel shall be your home for the next few days on Bed and Breakfast basis. The rest of the day to be spent at Leisure within the Hotel or by exploring the beautiful beaches of the Indian Ocean nearby.
Day 3: 30th October 2021 DOLPHIN TOUR AND SAFARIBLUE SEA ADVENTURE
Departing the Hotel at 630am.
With our "Safari blue" trip you shall explore Zanzibar by boat. Starting the voyage with a traditional sailing dhow from South West Zanzibar.
In this full day excursion, you shall have a chance for dolphin watching, sandbathing, snorkeling around a Sandbank, BBQ, seafood lunch at the Centre of the ocean (Sandbank), Zanzibar fruits and drinks, visiting mangrove forest and swimming through a mangrove lagoon.
Kizimkazi Dolphin Tour
Begins:            Kizimkazi, South District
Ends:               Kizimkazi, South District
Popular for:    Swimming with dolphins
Kizimkazi fishing village is home to several schools of the Bottle-nosed dolphins and Humpback dolphins, which are sighted following a short boat trip from the village. The dolphins are very friendly and playful. The best part is getting into the water and play with them. Kizimkazi is also the site of a 12th century mosque, the earliest evidence of Islam in Zanzibar and East Africa, and is thus worth a visit for both natural and cultural reasons. The Kizimkazi Mosque is one of the oldest Islamic buildings on the East African coast.
Returning to the Hotel shall be at Sunset.
Day 4: 31st October 2021 STONE TOWN, SPICE FARM AND PRISON ISLAND
This is another good day and after breakfast we will continue with our tour of Zanzibar.
Stone Town Tour
Begins: Central Market, Stone Town
Ends: Shangani, Stone Town
Popular for: Ancient Arab colonial history
Visit the Anglican Church of Christ built by Bishop Steers in 1874 and get a chance to walk through the streets of Stone Town and get to buy tropical fruits and spices, while hearing different dialects being spoken by the people of the town at the market. Part of a palace complex was the main official residence within the Zanzibar Stone Town. Sultan Said and some of his descendants lie buried in this palace graveyard. Designed by the same architect who designed the High Court (also located in town), J. H. Sinclair, the National Museum is home to many of memorabilia including, most notably, Livingstone's medical chest.
Spice Farm Tour
Begins: Kidichi, Central District
Ends: Kidichi, Central District
Popular for: Tasty tropical fruits & spices
The Spice Tour begins at Kidichi Village to visit the Persian Baths built in 1850 by Seyyid Said bin Sultan for his wife Princess Shehrzard. They are referred to as "Persian" because their construction was commissioned to Shirazi architects. The word "Hamamni" means "the place of the baths". The Zanzibar Spice Tour proceeds to the Kizimbani Village in the Central District to visit the spice farms to see, smell and test varieties of tropical fruits and spices such as black pepper, coriander, cardamom, cinnamon, cloves, ginger, vanilla sticks, lemon grass, nutmeg etc.
Prison Island Boat Trip
Begins:            Seafront, Stone Town
Ends:   Seafront, Stone Town
Popular for:    The Historic prison and the giant tortoises
In 1893, Lloyd Mathews built the prison. The prison idea was to send violent criminals from the Tanganyika mainland to the Prison Island. The Prison Island ended up being used as a quarantine center, instead of a prison, for yellow fever epidemics that once raged through the region. Prison Island remained in the ownership of the government which converted the newer quarantine buildings into a guest house. The old prison still remains standing, providing shelter for some of the giant tortoises which can now only be found on this island, and the cells. After the tour there's a snorkeling option for those who'd like to get wet.
Returning to the hotel shall be evening to be spent at leisure.
Day 5: 1st November 2021 CULTURAL & TRADITIONAL EXPLORATION, TURTLES SANCTUARY AND SUNSET DHOW CRUISE
This shall be our final tour day and we will make the best of it
Cultural & Traditional Exploration 7hrs
Begins: Nungwi & Kendwa – North District or Jambiani, Paje & Bwejuu – South District
Ends: Nungwi & Kendwa – North District or Jambiani, Paje & Bwejuu – South District
We move to see locals climbing coconut trees, and coconut products like madafu milk, baskets, rope, poles coconut palm caps. The fun part of the tour is actually having guests trying to climb a coconut tree. You wouldn't want to leave Zanzibar without trying it would you? The Village Tour proceeds further to a field cassava plantation and bananas with their various products can be seen and tasted cassava weaving of baskets, floor mats, brooms, food covers etc. Koran (Quran) Schools will also be visited. We then proceed to the last stop of our most cultural of Zanzibar excursions to be welcomed by local Zanzibar drumbeats where guests are requested to participate with refreshments of tropical fruits.
At 14hrs you shall be taken to Nungwi beach to have a lunch and spend some time at the beach swimming, sandbathing, enjoying the moments at the best beach in Zanzibar. A 16hrs you shall be picked up for a traditional dhow sunset cruise with refreshments on board, you shall enjoy the sailing till sun goes down then around 19hrs you shall be transferred back to the hotel.
Day 6: 2nd November 2021 Zanzibar to Dar Es Salam
This day's activities are very much flexible and dependent on the group Consensus. Transfer from Zanzibar to Dar es Salam shall be done in the morning or afternoon depending on where you want to buy your souvenirs from.
In Dar es Salam you shall check into Tiyende Safari's appointed hotel on Bed and Breakfast still
Day 7: 3rd November 2021 Dar Es Salam to Lilongwe
It shall be an early flight because its scheduled 0740hrs and landing at KIA at 0950hrs. Tiyende Safari shall do all the transfers back to your doorstep within Lilongwe.
Air Transfer (KIA-DAR)
Boat Transfer (Daresalam – Zanzibar)
Fulltime Guide
7days & 6nights'Accommodation (Bed & Breakfast)
Guided Tour & Activities in Zanzibar
Entry fees to all Restricted areas
Prison Island
Spice Farm
Safari Blue
Stone Town tour
Dolphin Tour
Cultural & Traditional Exploration
Optional activities not outlined in the itinerary.
Meals Not Included in the itinerary
Items of a personal nature e.g. tips and etc,
Visas (If required)
PCR / COVID Test (If Required)